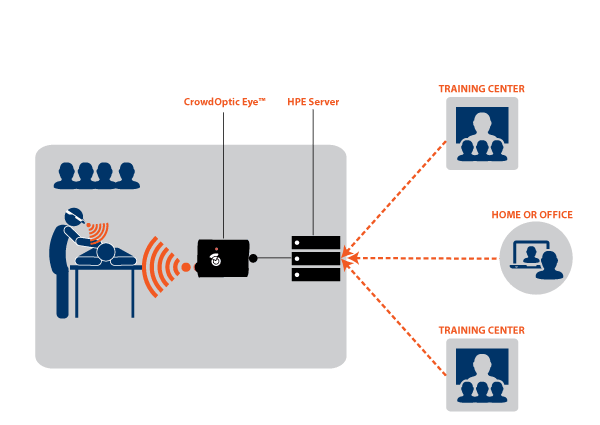 Technology and User Experience
The Power of Technology
All National Bioskills locations are equipped with CrowdOptic Intersect™ technology – intelligent live streaming, an industry-first solution that interconnects multiple video feeds with Internet-of-Things (IoT) sensors and biometric data in real time. That makes for better remote learning with livestreamed, user-driven live viewing from multiple angles, as well as the ability to link all three NBL locations for simulcast training, multiple trainers, and remote attendance.
Transforming medical device training
Intelligent live streaming enables smart remote training with situational awareness and multiple angles of live viewing. CrowdOptic Intersect™ is a cost-effective means to connect live procedures to remote colleagues and students. Video and IoT data from multiple devices across multiple locations converge onto a single web page display, eliminating the need for costly integrated systems.
CrowdOptic technology also gives event attendees exclusive access to replay their own live training sessions, offering unprecedented opportunity for learning reinforcement as a follow-up reference.
Passionate about improved outcomes
Our founders are practicing physicians with 20+ years' experience in CME and physician hands-on training, so they know what goes into an excellent training experience. NBL can support large professional education programs as well as small, regional initiatives. Our clients can ensure safe and effective use of their devices by optimizing knowledge and capability of practitioners, because physician attendees at NBL training enjoy a fully engaged experience which leads to better learning and adoption.
With national coverage and on-site facilities in 3 strategic locations, combined with limitless remote options via CrowdOptic intelligent livestreaming remote training, you can't beat the cost-effective reach of our programs.
New FDA Approvals
In today's fast-paced biomedical market, small startup companies are just as likely to create a disruptive device or technique as global companies. NBL levels the playing field for smaller companies to deploy training as extensively as larger competitors. Offering the same professional presentation, quality training and status as global corporations means investing in NBL training is an investment in your company's growth.
NBL has deep experience and success helping companies with new FDA approval to deploy national training programs. CrowdOptic technology allows for integrated live/remote trainings, providing cost effective reach. Plus, we can help with reporting requirements and assist with documentation required.
Hands-On, High-Tech, High Adoption
Attendees enjoy NBL's best-in-class training technology and luxurious environments, allowing them to fully relax and engage, leading to better learning and increased adoption and success. Follow-up reference ability by onsite attendees leads to better retention and patient outcomes and decreased patient litigation.